About-Contact
From ArduinoInfo
ABOUT the ArduinoInfo.Info WIKI

This WIKI is written by Terry King with help from Mary Alice Osborne, Jun Peng, Barry King, Noah King, Kufy Ebong and other contributors who are members of this WIKI. We encourage you to contribute, including sending us your comments, criticism and suggestions! Email terry@yourduino.com

The Vision of ArduinoInfo.Info is that Information is free and should be widely shared. We believe worldwide collaboration produces the best information. Arduinoinfo.info strives to provide accessible information that promotes innovation and new ideas and supports all people in their own inventiveness and learning.</span>
Check us out on ScamAdvisor</span>


Who's Who:
Terry King:
Terry started soldering circuits over 60 years ago. He is an Engineer who has designed radio stations, recording studios, broadcast equipment, intelligent machines and special computer languages for IBM, and has worked as a broadcast journalist covering elections, fires, riots and Woodstock. He has worked on Computers that Sense and Control "Things" for the past 40 years, from Automated machines to Chip Testers to Home/Building Automation and now Arduino for many different applications. He has 'retired' several times during the past 20 years, and followed Mary Alice in living in Africa, China and the Middle East, bringing his Electronics Lab and Camera with him. Now he is writing the http://ArduinoInfo.Info WIKI and running the shop at http://YourDuino.com with Mary Alice and our good Chinese friend Jun Peng.

Mary Alice Osborne:
Mary Alice has worked as a bus driver, costume designer, art teacher, computer coordinator, technology teacher, and technical illustrator and has teaching degrees in Elementary Education and Special Education from the University of Vermont, and a Masters in Information Science from Syracuse. She was the Director of the SPARK! talent development program and Library Media Specialist at Waits River Valley School in rural Vermont. Since then, Mary Alice has designed and run Libraries at several International Schools in North Africa (Tunisia), China (Shekou) and Saudi Arabia where she designed 3 new libraries for the King Abdullah University of Science and Technology. Recently she was Head Librarian at the International School of Genoa (Italy). Recently she was Head Librarian of Hanover High School near Dartmouth College. Now she is working on Educational Materials and Marketing for this WIKI and YourDuino.com Together, Mary Alice and Terry have 6 children and 14 grandchildren, most of whom are already Making Things

Jun Yuan Peng: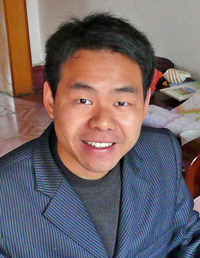 "Peng" grew up in GaoPing Village, Hunan, China where he lived for several years with Grandpa and Grandma Peng. His Grandparents were a great influence on him. Peng says, "My Grandfather never treated me as a child. Every morning he asked me, 'What is the date today? What do we need to do today? What tools do we need?'." Peng's Grandmother was a teacher of English and Russian and Peng still can quote a large set of phrases in 3 languages. Peng was a student at a Technical College in Hunan for two years, when he was asked to teach, which he did as he completed his degree. </span>
In 2007 Peng met Terry and Mary Alice, who lived in China for 2 years. They became great friends, and Terry </span>traveled several times to Peng's hometown in Ping Jiang County in Hunan where he met much of Peng's family and stayed with them in the villages. In 2011 two of Terry's Grandsons met him in Hong Kong and </span>traveled with Peng to the villages and mountains of Hunan. They spoke at 3 different schools in Hunan, played Vermont fiddle music and met many High School students. Today, Peng's and Terry's families are good friends. Peng married a couple of years ago and he and his wife Hong have a small son named Yu Tsing. Peng runs the China part of YourDuino.com where his talent and ability in finding Arduino-oriented products at a good price in the Shenzhen, China marketplace is the key to YourDuino.com's success.</span>



Barry King: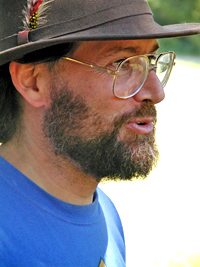 Barry is Terry's oldest son. He has an Electrical Engineering degree from the University of Vermont, and 20+ years of experience in designing microcomputer-based systems. He has designed many of the products at renewablenrgsystems.com/ which is a Vermont USA based company specializing in Wind Energy instrumentation and controls. Barry has 4 children, 3 graduated from University with 2 teaching in rural Vermont and one Engineering buildings, and one currently in University in London. Two of Barry's sons spent time with Peng in China 4 years ago. Barry has designed many dozens of printed circuit boards and will be designing new Electronic Bricks which you will hear about here.

Noah King: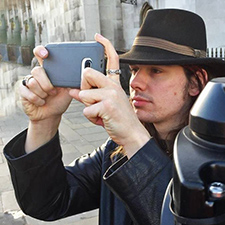 Noah is Barry's son and Terry's Grandson. He is studying commercial electrical installations and working as an Electrician in Boston. He has written our How-To about Bluetooth and HM-10, showing how to control Arduino from a smartphone. Noah is designing some of the YourDuino projects, and doing 3-D design for special parts.

Kufy Ebong: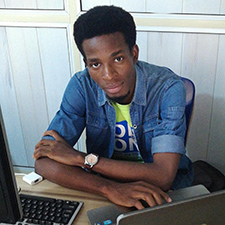 Kufy is an Engineer from Port Harcourt, Nigeria. He has developed several of the projects on this Wiki. Kufy is particularly expert in RaspberryPi, Arduino and image processing. He will provide advanced projects and how-to articles.

==Other Contributors:==