August-2013-Newsletter
From ArduinoInfo
YourDuino China Meeting</span>

Through YourDuino.com we are very fortunate to get to know people in many areas of the world and see some of the most interesting places. Mary Alice took the photo on the right from the window of a temple atop a mountain in Hunan Province.</span>

The YourDuino team met recently for two weeks in China. This is the first time that YourDuino founders, Terry King and Jun Peng have been able to meet face to face since starting the company over two years ago. Terry and Mary Alice met Peng when they lived in China from 2007-2009. Currently, the YourDuino team includes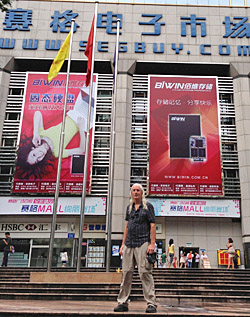 Terry at the SEG Marketplace
Terry King, (engineering, education and how-to, wiki and website design), Jun Peng, ( China operations manager), Mary Alice Osborne, (education and marketing collaborator), and Yuan Ming, (shipping and operations assistant). <About Us> We discussed the needs of our customers, the future of the business, and new product directions.

During our time in Shenzhen, our team spent days exploring the SEG plaza, (stands for Shenzhen Electronics Group), the largest components and electronics product marketplace in the world. We met with current suppliers and looked for interesting new products. Peng has established excellent relationships with many companies that supply the products you see in the YourDuino catalog.


New Products

Some of the things we looked for and evaluated included:

CNC equipment, including Stepper Motors, Drivers and 3D Printers</span>
Interesting new Sensors and Communication Modules</span>
New Electronic Components</span>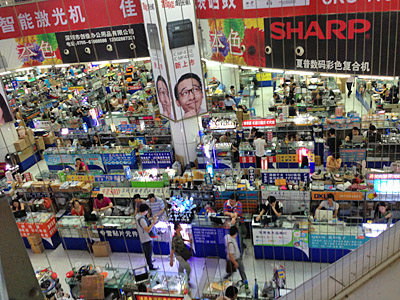 Part of the SEG Market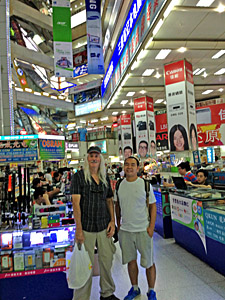 Terry and Peng at SEG
Toys For Engineers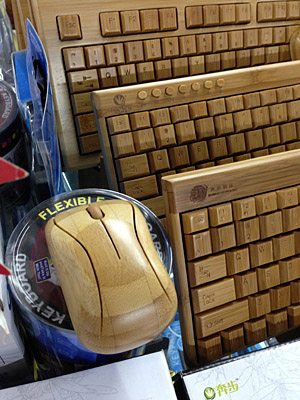 We are also planning to introduce a new section of our catalog titled: Toys for Engineers, which will include a variety of fun, unusual and interesting things for techie people and their children. We found several interesting new products which will appear in the first version of the "Toys for Engineers" section of our catalog. We were very happy to find beautiful, high quality wooden bamboo keyboards, calculators and mice. These are made near PingJiang, where Peng grew up.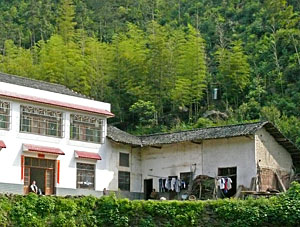 The photo at left shows Peng's grandparent's farm at Lin Village, with the multi-hued green of the steep hillside of bamboo. In China, bamboo is used for food, chop sticks, furniture, shoulder poles for transporting baskets and now this unique material can grace your desk or workplace.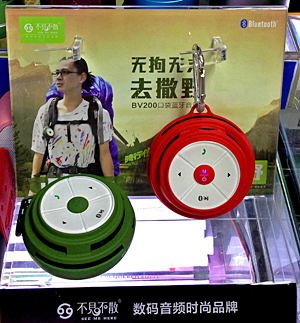 We found a great sounding and rugged portable blue-tooth speaker that can clip on your backpack, bike, dash board, etc. It can:

Play music from your phone or micro SD card</span>
Act as a hands free speaker phone.</span>

In the SEG Market, we met a talented young piano player who was using an ultra-thin, roll-up piano keyboard to produce a great sound anywhere. <video> We will have this in the catalog soon.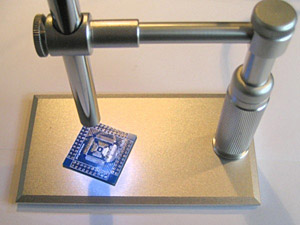 Micro electronics is a small, small world and this compact USB microscope shows it big and clear on your computer display. Kids will love to bring bugs, plants and other discoveries to view with you.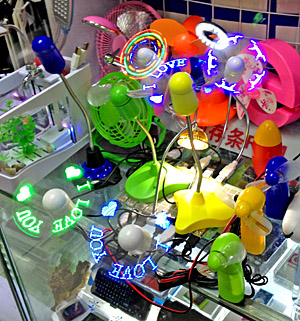 These cool and geeky USB fans can be programmed to display a message, insult your friends, e tc. Plus it actually will move some air towards your face. </span>

We're looking for your ideas for more high quality, geeky, but useful items for the Toys for Engineers section. A bamboo USB flash drive can be yours if we use one of your ideas!



We recently supplied several hundred customized Engineering Starter Sets to a major university for their freshmen computer engineering students <See it HERE> We are really happy that today's engineering students will immediately have hands-on experience with microcomputers, electronic sensors, actuators, breadboards and components. Our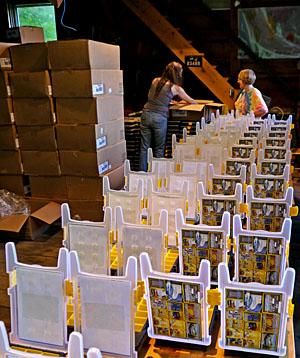 Building customized kits for a University Engineering course in our barn.
Maker version Starter Set is an excellent, low-cost solution for many classes and MakerSpaces. Compare the Starter Set Marketplacehere <link>. </span>
Another thing that sets us apart is that we provide in-depth, how-to product specific information on our free website <link> including instructor materials and slideshows. We have the ability to customize Starter sets or add specific components to an existing set for your classes or workshops. Please email terry@yourduino.com to discuss what you may need.</span>


Wholesale and Manufacturer Support

We can provide many different electronics components and sub-assemblies from the huge Shenzhen, China marketplace. Some are very popular: we sell thousands of waterproof temperature sensors and relay boards to industrial customers at excellent quantity prices. Email us to discuss your needs or get a quote.


About the YourDuino.com Team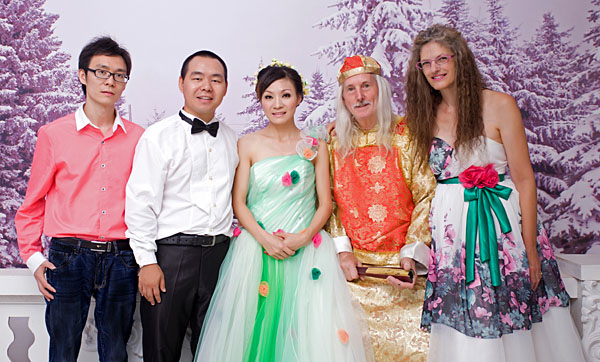 In a fun Photo Session we took this portrait of the YourDuino Team. L-R Yuan Ming, Peng, Hong, Terry, Mary Alice.

During our time in China Peng and his wife Hong wanted to have some traditional Wedding Photos taken. They invited us to take some photos with them and at the studio we had fun choosing wacky costumes, like Terry as an ancient Chinese Wizard and Mary Alice as the Marketing Princess.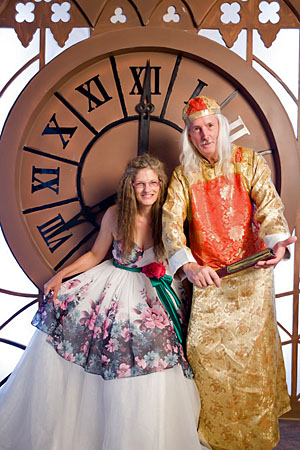 Here's another fun photo on the right...


Who we are and Where we're from

Terry and Mary Alice are designers. Terry has designed Radio Stations, broadcast equipment, recording studios, intelligent machines, and specialized computer languages for IBM. More recently, he designed and built a post and beam barn and Arduino-based home automa tion systems. Mary Alice is an artist, educator and librarian who has designed libraries in Africa, China, the Middle East and the USA.</span>

Our experience in living and getting to know people in Africa, China, the Middle East and Europe has made it clear to us that the world is truly a multinational, multicultural space in which we can all work together to share ideas and capabilities. We have been welcomed into cities, homes and villages on several continents. Even when we hardly spoke the local language, it was clear to us that the human helpful connection can work worldwide.</span>

Looking out from our Cabin in Vermont

At YourDuino.com we respect all cultures, all religions. There is a human commonality of the desire to learn new things from each other and help other people.</span>

We live in a very rural area in a small village in Vermont, USA. We see our woods, our meadow and our pond, but no other houses. We feel a particular connection with the people of China and the small villages where we were so warmly welcomed. Below are some photos Mary Alice took.

Hunan Province is just north of Guangdong, where Shenzhen and the SEG Market are located. We traveled by high-speed train from Shenzhen to PingJiang and then to the villages that Peng and his wife Hong grew up in. We stayed with their families and met many new friends.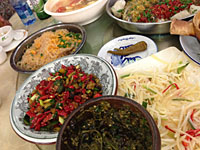 Spicy Hunan Food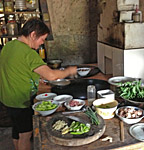 Peng's mother cooking
Peng's Grandfather stokes the fire



In Hunan villages and homes,families gather in a large open, common room for food and socializing. Various neighbors constantly drop in.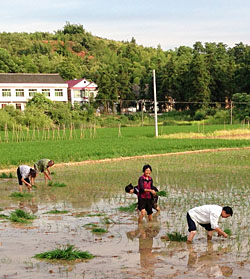 Planting rice
Almost all food is grown in the terraced, raised bed gardens and rice paddies surrounding their houses. Meals are prepared in kitchens with built in wok stoves, heated by wood fires. Hunan cooking is very hot and spicy with lots of red and green chili peppers and special pickled vegetables. Many different dishes are served at each meal including pork, fish, vegetables and rice. We typically drank local smoked tea, TsingTao beer and potent rice wine. A local rice wine variety is aged in large jars with roots and herbs.</span>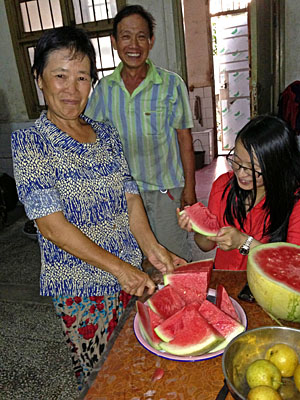 Our friend Anjiao's parents offered us their home-grown watermelon.
Neighbors help to harvest the rice
In the countryside in Hunan there is a fundamental hospitality towards strangers and sharing of food with others. In the smallest places, people would wave to us, beckon us in and bring us tea or fresh produce from their gardens. We would sit with them and they would ask us questions. We were fortunate to visit the parents and grandparents of Peng and his wife Hong as well as Mary Alice's friend Anjiao and her husband ZhiPing in Anran.</span>

We felt the genuine hospitality of the wonderful hard-working people we met throughout Hunan Province. Our experiences in the towns and villages reinforce our belief in the commonality and goodness of all people. We look forward to continuing to work in partnership with our Chinese friends and family.</span>


Images from our trip to Hunan Province, China</span>