ElectricityIs
From ArduinoInfo
ELECTRICITY is... What??
A flow of ELECTRONS.

So, WHERE DO ELECTRONS COME FROM ??? and,
WHERE DO ELECTRONS GO??? AND WHAT DO THEY LOOK LIKE??




ANYWAY.. It works like this:

Electrons come from SOURCES and go to LOADS.



Examples:
The 220 Volt AC power in a wall outlet SOURCE goes to a 100 Watt Light Bulb LOAD.
The 12 Volt DC power from a car battery SOURCE goes to a 20 watt Tail Light Bulb LOAD.
The 3 Volt DC power from the two cell SOURCE in a flashlight goes to a 2 watt Flashlight Bulb LOAD.
The 4.8 Volt DC power from a Lithium Ion Battery SOURCE goes to a Digital Camera LOAD.


IMPORTANT ! !
LOADS must be matched to appropriate SOURCES or Bad Stuff Happens:
The LOAD doe not work properly, or at all. OR,
Ka-BOOM ! ! The LOAD is damaged or destroyed
CIRCUITS:
CIRCUITS connect SOURCES and LOADS together with CONDUCTORS. CONDUCTORS are usually wires, but may be any other conductive material such as a metal strap, the metal case of a flashlight, etc.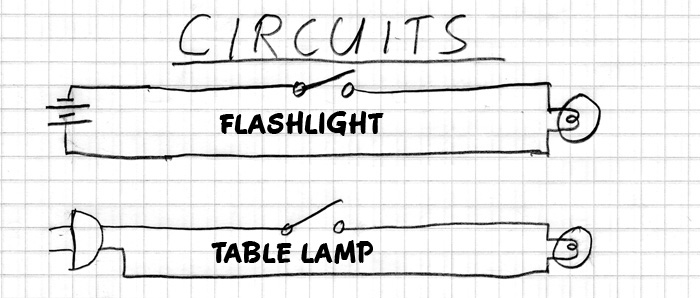 CIRCUITS can be simple, like a flashlight with one SOURCE connected in a circuit with one LOAD. Or, they can be very complex, like the wiring of Stage Lights, with many sources and many loads. Or they can be
wicked
complex, like a Pentium processor chip, with many
millions
of sources and loads.