RobotKitAbout
ABOUT THE YOURDUINO BASIC ROBOT KIT Version 2
Detailed How-To pages start HERE:
Unpacking Your Robot Kit(Click HERE):
The OLDER Version 1 Info(Click HERE):

Educators' Teaching Materials (In Progress) Click HERE: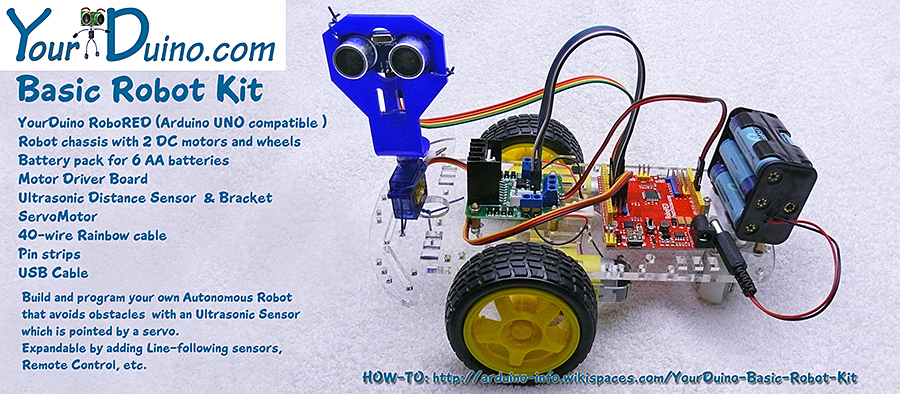 We have done much research and had many discussions with suppliers to offer a Robot kit with this many parts and capabilities at the $45 price. We have also improved some things that were problems with the earlier version, such as including a small screwdriver for the terminal strips and screws, and a sturdy bracket for the Ultrasonic Sensor. The YourDuino Basic Robot Kit Version 2 adds these new features:

Your Robot is Controlled by the YourDuino RoboRED Microcomputer board, compatible with Arduino UNO with added features:

ALL I/O pins are brought to 3-pin (Ground-Voltage-Signal) connectors
Advanced Switch-mode power supply provides up to 2 Amps at 5V

Very direct wiring with supplied ribbon cables, easier motor wiring, no soldering required.
Sturdy Ultrasonic Sensor Bracket.
Improved thicker plastic baseplate.
A high quality screwdriver that fits screws and terminal blocks.


This kit has many small parts and detailed electrical connections. The builder needs good fine-motor hand skills. This is not appropriate for most small children. We suggest 10-12 years old, and some hands-on help from an older person is very valuable.

PLEASE email questions, updates, comments to terry@yourduino.com
 
 

Educational Resources for integrating Robotics into the regular curriculum are available HERE